Email is one of the best marketing channels that you can't ignore. Research shows that email generates $38 for every $1 spent. This means the email has a whopping 3800% ROI which is just insane. In another study, 59% of marketers reported that email marketing is the marketing channel with the highest ROI.
It isn't just about sending emails to your subscribers and customers but you have to send them highly personalized emails. Statistics show that 74% of marketing professionals say that personalization increases customer engagement significantly. Among several other approaches to making your emails personalized, mail merge stands out from the crowd.
Imagine sending emails to your customers without referring them with their name. Do you think they would be pleased to receive such emails?
It irritates customers when they don't receive a personalized experience. As much as 71% of consumers feel frustrated when they don't receive personalized messages from brands.
So what exactly mail merge is and how you can use it in your email marketing campaigns?
Let's figure out.
What is Mail Merge?
It is a useful feature that lets you link a document with data to a template. The data file contains information about email recipients such as first name, last name, address, phone number, etc. The data is inserted into the email template at specific places.
Mail merge lets you personalize emails with a single data file and a single email template. The data is picked from the file and is inserted automatically at specific places in the template: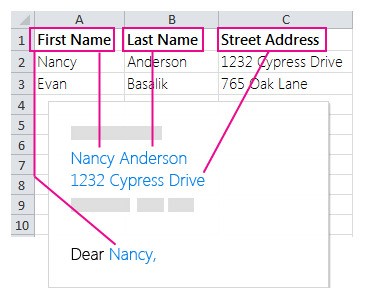 It is extensively used in email marketing especially cold email marketing campaigns. It helps you save time, increase effectiveness, and increase personalization. At the end of the day, mail merge lets you take control of your emails like a pro.
Mail Merge with Gmail
If you are not sure how to use mail merge, your best bet is Gmail. You can use mail merge with Gmail easily and make your emails personalized. You can use a single email template and customize it to a great extent with this amazing feature. Mail merge with Gmail is free to use and provides you with decent personalization features.
Here is how to use mail merge with Gmail.
Step #1: Download and Install Add-on
Download the Mail Merge with Attachments Chrome extension. It is a free extension that lets you use mail merge right from your Gmail dashboard.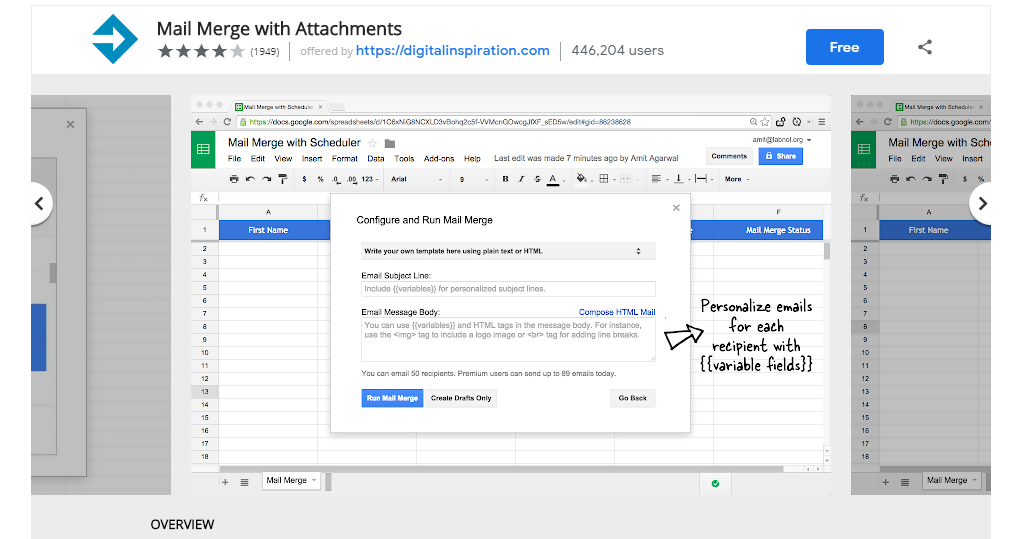 Download, install, and activate it.
Step #2: Create a New Template
After you have installed the add-on, open Google Sheet. Select Mail Merge with Attachments and then select Create Merge Template from Add-ons.

This will create a new template.
Step #3: Create Contacts
Create a new group in Google Contacts for the people who will receive the email. Add all the recipients to the group.
Alternately, you can add recipient details in the Google Sheet directly. It gets tedious so creating a group in Google Contacts is a better option.
Step #4: Import Contacts
After you have created a group and all the contacts are added into it, you need to import the group into the sheet. Select Import Google Contacts under the mail merge menu.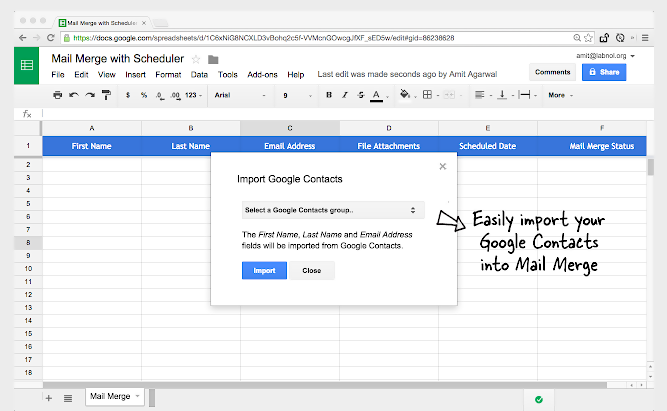 It will automatically import all the contacts into the sheet.
Step #5: Configure Mail Merge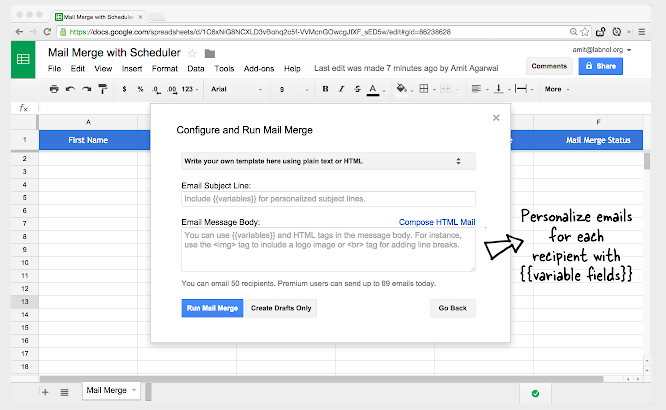 Create your email in Gmail and use placeholders in the subject and body for customization. After you're done with the email, move to the sheet and click Configure Mail Merge to run your email campaign.
When done, click Run Mail Merge. Your email will be sent to the recipients.
You can use other mail merge extensions and add-ons. There are several free add-ons available to choose from. The procedure will remain somewhat similar.
Mail Merge Tools
You can't use mail merge without a tool. The whole point of using it is to make emails customized automatically. And that's where you need a specialized tool that will handle all the data, template, tracking, processing, and personalization.
Here is an overview of the best mail merge tools that you can choose from.
1. Datananas

Datananas is one of the best mail merge tools that provides you with tons of features that make email personalization and automation a lot more exciting. It has a user-friendly dashboard that lets you create, manage, and customize email templates easily.
The best thing about Datananas is that you can integrate it with your Gmail account. You can start sending highly personalized emails in no time via your Gmail account. It picks contacts from your Datananas account and sends them emails based on the template you have selected.
You can create automated workflows, add follow-ups, track opens and clicks, manage prospects, and connect it with your CRM tool. You can choose from several customization parameters that are used to personalize emails. You can write and manage templates right from your Datananas dashboard.
When you create email templates in Datananas, your email and subject are analyzed. You get suggestions on its structure, personalization, length, and vocabulary. This helps with creating highly engaging emails.
Other key Datananas features include:
Contact generation from social media
Shared inbox
Zapier and CRM integration
Data management
Advanced reporting
Sales sequence
List cleaning
2. Mail Merge Toolkit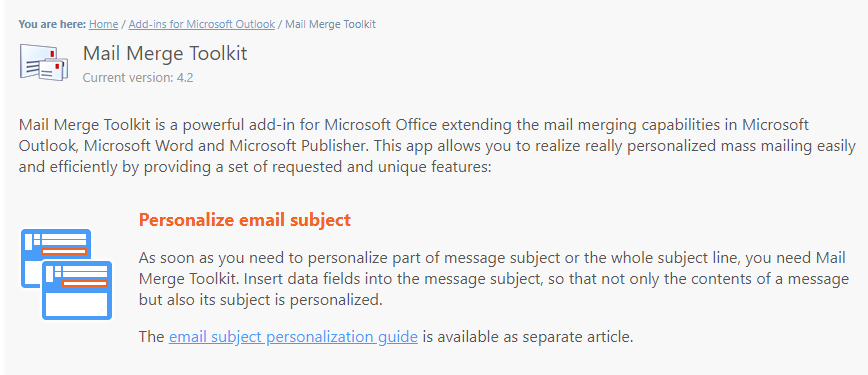 Mail Merge Toolkit is developed by MAPILab. It is an add-on that works with Microsoft Office. If you prefer sending emails Outlook, Mail Merge Toolkit is your best bet. It enhances the existing mail merge features in Outlook, Word, and Publisher.
The best thing about Mail Merge Toolkit is that it lets you personalize email subject. You can personalize all of it or parts as per need. You can add attachments including PDFs and GIFs. It is one of the best features that you'll love.
If you intend to track your mass email campaigns, you can connect your Google Analytics with Mail Merge Toolkit. You'll be able to track email opens in your Google Analytics dashboard.
3. Yet Another Mail Merge

Yet Another Mail Merge (YAMM) is an add-on that works with Google Sheets. If you prefer sending emails from your Gmail account, YAMM is the mail merge tool you should use.
The best thing about YAMM is that it is dead-simple. You can download the add-on in under a minute and get started right away. All you have to do is create your contacts in a Google Sheet, create your email in Gmail, and use YAMM to send the email.
What I personally love about YAMM is that it tracks email opens, clicks, and replies. The tracking feature is available with only a few add-ons and YAMM is one among them.
4. Mail Merge with Attachments

Mail Merge with Attachments is a Google Sheet add-on developed by Digital Inspiration. It is similar to Yet Another Mail Merge add-on and works in a similar way. You have to add contacts in a Google Sheet, create your email in Gmail, and run campaign through the mail merge feature in Google Sheets. The step-by-step guide on how to do mail merge with Gmail is covered above.
It tracks email bounces, opens, clicks, and lets you schedule your emails. You can also add an unsubscribe option in your emails to make them user-friendly and compliance.
How to Mail Merge with Datananas
Mail merge with Gmail is a cost-effective approach to sending personalized emails quickly but it isn't flexible. You don't get a lot of customization options, unfortunately. For instance, you can't track email opens and clicks and the personalization features are limited.
If you need to send personalized emails like a pro, Datananas is what you need. It is a sales engagement software that lets you send highly personalized emails with automated follow-ups. It lets you take mail merge to a whole new level.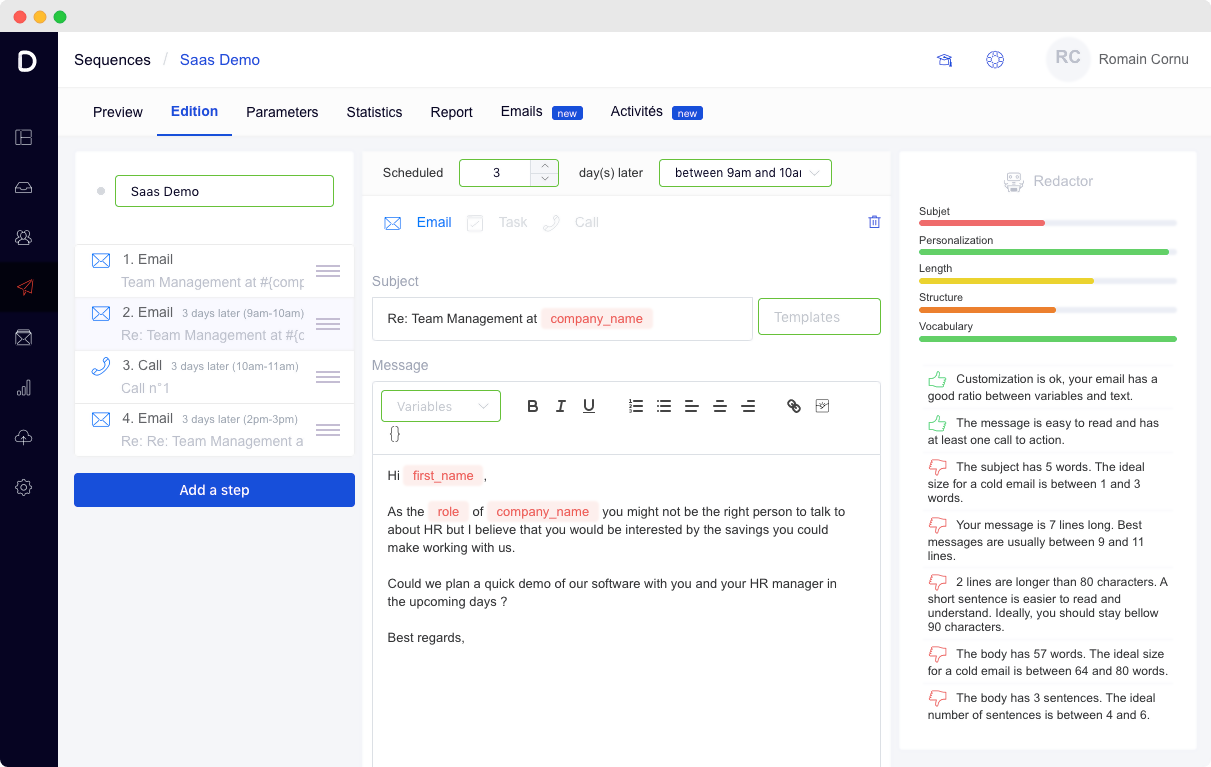 Datananas offers you multiple features that don't just help with mail merge but help you make marketing emails more personalized. You can integrate Datananas with your Gmail account and you can send emails with follow-ups and with an unlimited sequence.
All you have to do is integrate Datananas with Gmail, Office 365, or IMAP/SMTP mailbox and it will handle the rest. You can create multiple email sequences and templates to make it fairly automated. You can upload contacts or you can generate/extract contacts from social media using the Datananas Connect feature.
What this means is that it won't just let you send personalized emails but you will be able to generate contacts via LinkedIn on a daily basis.
Try Datananas free for 14-days and see if it really makes mail merge any easier for you.
Conclusion
Mail merge is one of the most powerful features that let you personalize and automate your email campaigns. It works seamlessly with leading mailbox services. It doesn't matter whether you're interested in sending emails from your Gmail account, Outlook, or any other mailbox, you can always use mail merge.
The mail merge tool you use is the key to success. It all comes down to how you run and manage your campaign. A powerful mail merge tool will save time, it will make your campaigns profitable, and will improve ROI significantly.
Sending emails to your list is the first step, what happens next and how you track and analyze your campaign is what's really important. Choose the right mail merge tool because it really matters at the end of the day.